NEW YORK CITY PRIDE MARCH 2011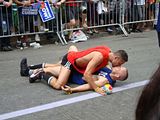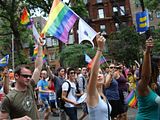 My girlfriend's (straight) co-worker wanted to go, so we all decided to head down there. We arrived on Christopher St., just steps away from the historic Stonewall Inn, around 11:30 a.m.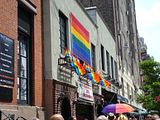 The was our first time attending. Luckily, this year the humidity was low and it was only supposed to get up to 81 degrees. If it were any hotter than that, I wouldn't have gone. It's wall-to-wall packed flesh on tiny Christopher St. We had a nice breeze and it was still stifling.

There weren't many people on the street when we got there, which made it perfect to move into position.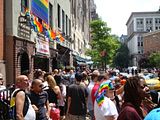 We had our Camelbaks, a backpack in which you can store a bladder full of water and drink from it all day via a tube that runs from the bag. This was a good thing, because once the parade started, you were herded together like so many cows and the cops closed off the streets. You couldn't move very much, nor could you leave and expect to find your place free when you returned. If you had to go the bathroom, forget it. Impossible. And for those of you thinking of attending, wear comfortable shoes. We basically stood still -- unable to move around very much or even stretch our legs due to the crowd -- for over five hours. My toes were actually falling asleep because we were packed together so tightly.

The parade goes in sections. There are eleven sections in total. We could only make it through four sections before we decided it was time to go. And that was four hours of standing. We left at 4:00. I have no idea how long the parade lasted.

The other irritating thing was that the cops blocked off the streets in such a way that you were unable to cross an intersection where you wanted to -- you had to walk up an entire block and back down the other side. This made getting back to the subway a trial.

This is one of those events that I am happy to say I attended, but I have no reason to do it again. Once was an experience. It was fun and I had a great time, but my first and only time was plenty to be squashed into an area so restrictive my damn feet were going numb for lack of movement.

If I never hear Gaga's "Born This Way" again it will be too soon. Practically every float was playing it. I'm also glad I can breathe clean air again. No matter how packed the sidewalk was, people were still smoking. I must have inhaled three packs' worth of cigarette smoke this afternoon. *gag* *Coff*

Anyway! Photos! Click each one to see bigger. I identified what group it was if I remembered. otherwise, they're just general photos.

The start of the parade. Sirens Motorcycle Club of NY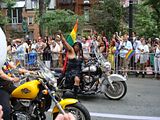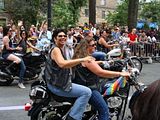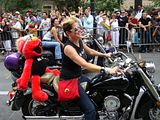 Dude motorcyclists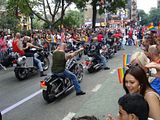 New Yorkers United for Marriage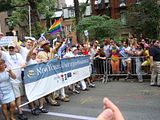 Grand Marshal Dan Savage and Terry Miller from the "It Gets Better" Project




Governor Andrew Cuomo (who championed the marriage equality bill in NY) and Mayor Michael Bloomberg




Senator Chuck Schumer




New York City Police Band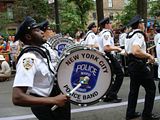 Lesbian and Gay Big Apple Corps Marching Band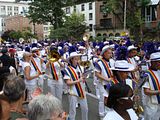 Fire Flag/EMS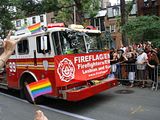 Mr. Stonewall (bear division, considering the flag he's holding)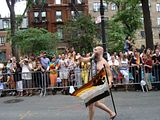 The Kiehl's float (skin care products and stuff)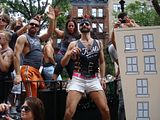 Kiehl's boys kissing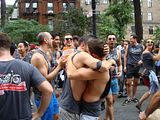 New York Rambler Soccer Club (I think) boys kissing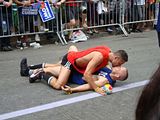 Guys from Boxers NYC (gay sports bar)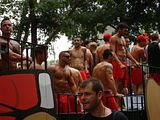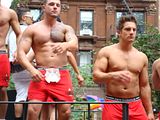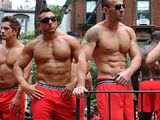 And the rest are random shots: